Our Larne Youth system has grown massively over the past five years, with our 2018 amalgamation allowing the whole of Larne FC to become united from the Foundation level to the First Team
We currently have over 400 children, both boys and girls, within our system, constantly learning, improving and most importantly enjoying and socialising with others.
Our Aspire2Inspire and ForTheTown messaging runs deep within our vision for the youth system, helping the kids learn transferrable skills for their future, as well as helping them strive towards the higher levels of our youth system and even the First Team. 
Our full-time academy youngsters learn and train alongside the first team five days a week, with the sole aim of helping them become the players of tomorrow
The students of our academy, based at the new first-class Larne Academy of Sport complex, are able to integrate their footballing talent with academic progression, opening up options for their future careers.
Mirroring the first team, our youth training sessions take place between Inver Park and the Larne Academy of Sport, two top-class facilities which have everything needed to help our youngsters improve and hone their skills in order to progress to the next level.



Youth Development Officer
LATEST YOUTH & ACADMEY NEWS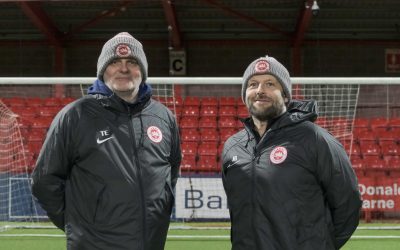 We are delighted to announce the appointment of Thomas Elliott as our new women's Olympic team manager ahead of the...